Planning a trip this Thanksgiving?
Have your pet come board with us for our unique Thanksgiving treatment!
We offer our own homemade turkey jerky treats, extra-special Thanksgiving love and a warm family atmosphere while you're away.
Call for more details: Riverside Grooming 951-233-5166 | 951-343-3222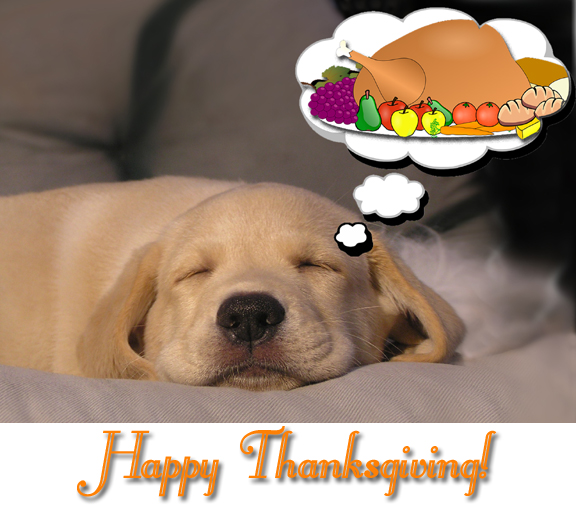 The year went by so fast. It's hard to believe it's Thanksgiving again. We are very thankful for your support with Riverside Grooming and we're looking forward to grooming your pets for the holiday season. Please note that the holidays are usually the busiest time of the year for our salons. We highly recommend that if you want a haircut on your pet that you come right away, because as we approach Thanksgiving day we may only be able to accept simple baths and tidy-ups. You may even want to consider getting the hair cut now and coming back right before the family get-together for a fresh last minute bath! Thanksgiving Store Hours: Both shops will be open Tuesday & Wednesday before Thanksgiving (24th & 25h). They will both be closed on Thursday & Friday (26th & 27th).
GIFT CARDS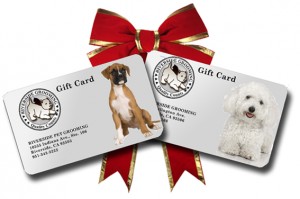 We now offer our new gift cards for the holidays. These cards are similar to a Starbucks card in that they are reloadable. If you need to start early for your holiday gift shopping, why not get them a nice grooming for their pet?
PET PICS WITH SANTA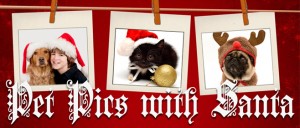 Ready to get your Santa Pet Pictures done for 2015?
Mary S. Roberts Pet Adoption is offering Pet Pics with Santa for a simple donation of $20.
And while you're there you can enter a raffle. All proceeds benefit pets residing at the Pet Adoption Center the cats, dogs, puppies and kittens waiting to be invited into forever home this holiday season.
Perfect timing! Great price!
When?
December 4th from 2pm – 5pm
December 5th 10am-12pm & 2pm-5pm
Where?
Mary S. Roberts Pet Adoption Center
6165 Industrial Avenue Riverside, CA 92504
(951) 688-4340
MOBILE GROOMING VAN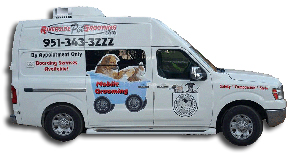 Quick reminder that our Mobile Grooming unit is up and running. We've had many happy clients re-booking this service. We try to make our services as convenient as possible! Call now to book your next Mobile Grooming appointment! 951-343-3222 or 951-233-5166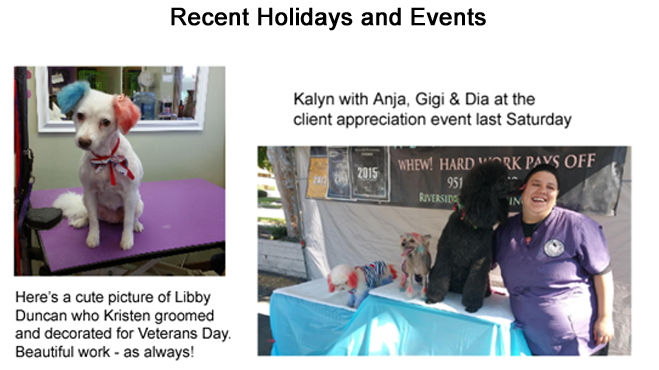 Originally founded by Animal Behaviorist, Colleen Paige, National Walk Your Dog Week was established in 2010.
Why is it important to walk your dog regularly? Well, there are a number of reasons, but we're pretty sure that from your pet's viewpoint, it would be to get out with you and have some wonderful bonding time.
Pets that are not able to get out, have a sense of confinement. Getting out into the fresh autumn air gives your dog a chance to enjoy mother nature and stay healthy. Experts say that by keeping your pet sedentary also can increase the risk of health issues, such as cancer, obesity and heart problems.
Colleen suggests walking pets is a great way to keep in shape – you and your pet. "If you walk your dog just 30 minutes a day, you will meet national recommendations for heart health", according to Ms. Paige. Great advice.
We hope this tidbit will help you welcome the new season with a healthy fresh attitude – and maybe even a great new hobby.
To find out more about Ms. Paige, visit her website at http://www.colleenpaige.com/
Come One, Come All!
Norco All Breed Obedience Club (NABOC)
presents the
OBEDIENCE SHOW N GO
Saturday June 13, 2015
Pikes Peak Park
97 6th Street Norco, CA 92860
Entries 8:00 to 12:00 Noon
Showing and Judging Starts @ 9:00 am
Take the 91 East to the 15 North, exit 6th St. turn right (East) on 6th St.
Take the 60, 10, 210 East to the 15 South, exit 6th St. turn left (East) on 6th St.
Park is about 2 miles from the 15 exit on left side of street.
First Entry $7 & Additional Entries, Same Dog $3
5 Rings
1 Beg Novice, 1 Novice, 1 Open, 1 Utility, 1 Overflow
AGILITY JUMPERS
$8.00 A Dog
UNLIMITED RUNS
SAME DOG
✯ CGC & CGCA TESTING
$12.00 A Dog CGC
$12.00 A Dog CGCA
✯ RALLY RING
$6.00 A Dog
UNLIMITED RUNS
SAME DOG
✯ LURE COURSING
$5.00 For 1 Run
✯ FRISBEE DOGS
Demos & Training
BRING SHADE
LUNCH WILL BE AVAILABLE
WATER WILL BE AVAILABLE
CALL FOR INFO: ROBERT LIVELL, CHAIRMAN
951 272-4679
When you are in between your groomings and baths, you should continue to brush your pet on a regular basis so as to prevent horrible matting. In this video, professional stylist Jacki Panzik will demonstrate exactly the correct tools and techniques you should be using between groomings.
In this video, Jacki explains why your pet should continue to be groomed in the fall. As health problems can occur at any time of the year, they can also be avoided by keeping your pet on a routine grooming program.
Also, learn about the all new grooming frequency chart we've created for you.
Watch this video.