Health
At Riverside Grooming we love to exceed expectations of our clients. So we figured, why not go further in caring for the pets in our community. We have installed a water system that is not only great for upkeep on our salons, but excellent for your dog's skin and coat. The softened water system we have is great for many different reasons. Hard water can leave scales and plaque behind on your dog's skin and coat it may even leave it feeling rough if
it is just washed without conditioners. At Riverside Grooming you will never have to worry about your pet coming in contact with hard water!
The softening water system uses Citra Charing agents to bind and isolate the calcium that would normally build up in any regular water system. It also raises the pH of the water to 10 (normal tap water is 7) this helps to minimize or diminish scales from forming. Its is almost as if we are bathing your dog with bottled water. It is safe to drink right out of the faucet. What a wonderful experience for your canine companion
A Great Haircut is Not the Only Thing to Consider
There are many reasons your dog should be groomed on a regular basis. Ideally you should be getting your pet groomed every 4-6 weeks. No matter the breed or coat, there are many different factors that determine how often you should groom your pet. It does not solely depend on how long their coats are. Nails trimmed, ear hair, anal gland expression, teeth brushing and early detection of parasites & skin issues are the important reasons why it is important to get any breed of dog groomed regularly.
Eyes and Ears
Eyes and ears of a pet are just as important as the coat and skin. If your pet's eyes are congested with overgrown hair or debris, it will cause them to tear up and create more debris. Even causing those ugly tear stains and can lead to painful ear infections. Also important is the removal of ear wax and yeast buildup in dogs that do not have hair in their ear canals.
Toenails
When a dog's nails are too long it can cause their pads to shift over making it uncomfortable to stand. A dog's skeletal structure may be compromised as well as the organs and nervous system. Their dewclaws may grow into the skin as well, causing pain and infection. Left too long, the quick (blood vein in the nail) will grow to a point that the nails cannot be clipped back far enough to be healthy for your pet.
Dental Care
Doggy Dental is extremely important as well maintaining your canine's teeth and gums is crucial for their health. Groomers can offer teeth brushing which, if done on a regular basis, can make a big difference in keeping a pet's breath smelling fresh and preventing tooth decay.
Parasite & Insect Control
Other issues to consider are insects, dirt and germs. Do you have a fear of finding a flea or tick on your pet? Even worse if your pup has an infestation. Having a family dog, that interacts with kids and company, is important that they are insect, parasite and germ-free. Taking your pets into your Groomer can ensure that they are flea and tick free and their overall health is in tip-top shape.
Skin issues
Early detection of very serious conditions can be life-saving under certain circumstances. Groomers that do hand blow-drying see every inch of the dog's skin during the grooming process. Skin imperfections are key to what is going on with the dog internally. For example, early detection of Cancerous Sarcomas can be the difference between life and death in some cases. Allergies, rashes & skin mite detection are also easier to alleviate if caught early. Groomers have many products and applications that can help keep dogs skin healthy if done on a regular basis.   
General Overall Health
The most important reason to get your canine regularly groomed is for their health. Riverside Grooming will thoroughly examine your pet searching, for any possibility that your dog may be uncomfortable in any way or have an issue that would be best checked by a Veterinarian.  Our Groomers strive to send your pet home feeling, looking and smelling great.
And routine Grooming every 4-6 weeks is a win-win for your entire family!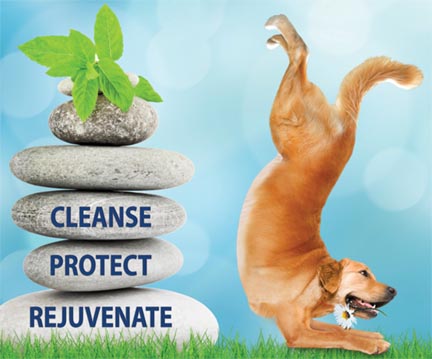 Madra Mór Mud Bath Treatments are like a day at the Spa for your canine! Riverside Grooming now offers the latest in luxurious spa-like treatments for your pet's coat and skin. This wonderful Mud has many uses to give your companion the most healthy, rejuvenated coat and skin possible.
Madra Mor Mud Bath Treatments are eco-friendly and contain a blend of nutrient-rich clay mud, omega oils, calcium, magnesium and more. This perfect blend of natural ingredients makes for a perfect soothing agent for dry, irritated, and flaky skin. Madra Mor Mud absorbs pet odors and leave a clean, soothing fragrance that  you and your pet will love.
This amazing mud can also ease the pain of arthritis that your pet may endure with age. The essential oils in the formula provide a calm, soothing aromatherapy experience and leave your loving pet with a long-lasting scent that you both can enjoy.
Detoxifying | Exfoliating | Nourishing
Two different types of Madra Mór Mud Bath Treatments that Riverside Grooming offer are:
Soothing Mud
The Ultimate Soothing Mud Bath, is the ultimate indulgence for your canine. It is high in antioxidants with strong astringent properties. It is a perfect blend of Mother Nature's finest ingredients that promote comfort, calming and healing to your loving companion. It is the softest mud you will ever feel, leaving your pet's coat feeling amazingly healthy and soft for the ultimate Zen experience.
Shed Safely Mud
Shed Safely Mud is the second type of amazing mud bath we offer at Riverside Grooming. This particular mud bath offers deep cleaning, sweet-smelling, ultra-hydrating omega oils that quench the coat as soon as it is applied. It is full of B vitamins that help relieve and prevent excessive shedding. Shed Safely Mud is ideal for those stubborn thick shedding coats that have more fur than others.
Here's a handy guide to assist you in keeping your dog in great shape for life. You can even put together a little checklist to follow based on this article.
Well-Maintained Body Weight
Underweight or overweight dogs are both "at risk". A dog which is underweight for its breed and size. How can you tell if your dog is underweight? Feel for the ribs. Are they sticking out and protruding? Or, do they have a nice layer of meat on them? If your dog is overweight, when touching the ribs the blubbery flesh will jiggle back and forth. If neither of these are the case, then your dog is in good weight.
Obese dogs are challenged when it comes to being groomed, as standing for the grooming procedure is taxing to them.
Some of the things that can contribute to Under-weight and Over-weight are:
Diet
Exercise (or lack of)
Age
Abnormal thyroid function
Healthy Diet
When purchasing dog food, try to avoid grains such as corn, wheat & soy. These are fillers which are not necessarily part of a healthy diet, and often times cause allergic reactions. Also anything that says "bi-product" on the label. The key is to READ THE LABEL. Be sure to look out for things such as "animal fat" without mentioning what the animal actually is. The company can legally get away with switching out what the animal actually is. Different animals can cause different reactions in dogs. Each bag of food could be from a different food source batch, even though the bag is the same as the last bag you bought the ingredients may not be.
Try to feed raw food whenever possible.
Walking and Playing With Your Dog Regularly
One of the biggest thrills a dog has in his life, is being walked by his Owner. Dogs have a sense of pride when they can get out in the public next to their Pack-Leader (YOU). Hiring a Dog-Walker or Sitter is a good substitute if the Owner is not available, but the Owner is always preferred. Dogs like to be with their families and participate in family activities. And remember… Play Time is even better.
Socializing with People & Other Pets
A well-socialized dog is friendly and wants to communicate with others. Nobody wants a dog that is scared or timid. Socializing your pet is the best way to keep him friendly and confident.
Setting up play dates with neighbor dogs or family member dogs  is always a great way to socialize you dog in a controlled environment.  Your local Doggy Day Care center is also a good place to take your dog for social activities. Be sure to get your dog acquainted with all sorts of people in all sorts of different situations. With a puppy this can be done a for very short periods of time at first as to not overwhelm or frighten.  These steps are fun and can really encourage a dog to be happy and well balanced.
Basic Training
"Sit", "Down", "Stay", "Come"/"Here" and  "Heel"/"Walk".  Basic exercises are imperative when it comes to a dog being well balanced and confident. These basic manners teach a dog how to conduct his/herself. Dogs who know what to do in varied situations are more stable and less nervous individuals.  They are educated.
Groomed regularly per the breed requirements – see our blog for recommendations
Toenails Should be Short
Nails should be clipped so that they are not clicking or touching the floor. Click here for an article on Toenails and why it's vital to keep them trimmed back.
Ears cleaned often enough to prevent buildup of residue. Bacteria and parasites in ears can lead to major health issues. Regular ear maintenance is vital for keeping a dogs healthy and happy.
Kept in clean environment
You should feel confident that your dog is be able to welcome your dog into your home.
Fresh Water Daily
Water should be changed daily. We prefer filtered water for our dogs and cats. No toilet water please!
Eyes Bright
There should be no mucous buildup or staining. Keeping ears clean helps with keeping eyes clear and bright. Bright eyes is a very apparent sign of good health and vitality.
Free of Parasites (external and internal)
Good food, clean environment, regular grooming, keeping food dishes clean, water fresh are very important for parasite control. Vermin and birds are notorious for spreading parasites among domesticated animals as well. Dogs that live in rural areas are at risk for parasite infestation due to the increased exposure to wild animals. Diatomaceous earth added to food will help prevent internal infestation. It can also be used as a natural external parasite preventative too.  
Tangle Free
Matting causes skin irritation and discomfort for dogs and cats. Bathing dogs with matting causes the mats to shrink up and tighten against the skin of the dog. Therefore it's very important to brush and comb every tangle out prior to bath or swim time. Severe matting will cause dogs and cats to have to be shaved very close in order to get the matting  off. Skin may be irritated by this process as the skin is so tender and oxygen has not been getting to the skin to keep it healthy.
Teeth Should be Tartar-Free 
Keeping a dog's teeth clean is paramount for good health. Tartar produces bad breath and leaches toxins into the digestive system. This can be represented by skin issues, eye staining as well as other more serious health issues like heart conditions. In today's world it's much easier to keep a dog's teeth clean and tartar free. Small dogs in particular are predisposed to having profuse amounts of tartar caked on their teeth if not maintained. Genetic predisposition is a big factor in tartar building up on on teeth. Therefore two dogs that live in the same environment, eat the same foods and drink the same water can be very different when it comes to tartar build up. We have newly developed sprays and gels that, if used regularly, are very effective in keeping tartar at bay. Giving dogs RAW (never cooked) bones can help to keep teeth clean and shiny. Adding some RAW meat into your dog's diet will also help break down tartar.
Anal Gland Expression
Dogs have scent glands like skunks. Small dogs and even some large dogs need assistance with keeping this gland "expressed": removing the fluid within the glands. This is typically done by Groomers or in more extreme cases that requires internal application, a veterinarian. Dogs will build up a foul smelling odor when their glands are not expressed. Neglected glands can also lead to the glands becoming impacted, causing pain and discomfort to your pet.
Here at Riverside Grooming, our staff is Certified by the American Red Cross in CPR and other first response first aid. We also pride ourselves on having an organized evacuation plan should an incident occur in our salon.
This is so important when pets are going through the grooming process. Especially our special-needs pets, such as the elderly, very young and pets with health issues that could affect the pet during the grooming.
Your pet is safe, healthy and happy with us.
Digestion Problems? Diarrhea? Constipation? Vomiting? Holiday Junk Food got your pet irregular?
One of our most popular products, Prairie Paste is an oral paste providing digestive bacteria and enzymes for use by mouth rather than adding to food. No refrigeration needed! Up to 3 year shelf life!
Suggested Feeding Rate: Administer on the back of the tongue at the rate of 1 g/cc for each 15 pounds of body weight.
Guaranteed Analysis Per 30 g/cc Tube: Total Lactic Acid Producing Bacteria 5 x 107 CFU/gm (*CFU = Colony forming units) Lactobacillus acidophilus, Bifidobacterium thermophilum, Bifidobacterium longum, Enterococcus faecium, Bacillus subtilis.
Ingredients: Vegetable Oil, Dextrose, Inulin, Dried Egg, Sorbitan Monostearate, Dried Lactobacillus acidophilus Fermentation Product, Dried Bifidobacterium thermophilum Fermentation Product, Dried Bifidobacterium longum Fermentation Product, Dried Enterococcus faecium Fermentation Product, Dried Bacillus subtilis Fermentation Product, Dried Aspergillus oryzae Fermentation Extract Product, Dried Aspergillus niger Fermentation Extract Product, Yucca schidigera Powder, Vitamin A, Vitamin E, Vitamin D3.