health
At Riverside Grooming we love to exceed expectations of our clients. So we figured, why not go further in caring for the pets in our community. We have installed a water system that is not only great for upkeep on our salons, but excellent for your dog's skin and coat. The softened water system we have is great for many different reasons. Hard water can leave scales and plaque behind on your dog's skin and coat it may even leave it feeling rough if
it is just washed without conditioners. At Riverside Grooming you will never have to worry about your pet coming in contact with hard water!
The softening water system uses Citra Charing agents to bind and isolate the calcium that would normally build up in any regular water system. It also raises the pH of the water to 10 (normal tap water is 7) this helps to minimize or diminish scales from forming. Its is almost as if we are bathing your dog with bottled water. It is safe to drink right out of the faucet. What a wonderful experience for your canine companion
A Great Haircut is Not the Only Thing to Consider
There are many reasons your dog should be groomed on a regular basis. Ideally you should be getting your pet groomed every 4-6 weeks. No matter the breed or coat, there are many different factors that determine how often you should groom your pet. It does not solely depend on how long their coats are. Nails trimmed, ear hair, anal gland expression, teeth brushing and early detection of parasites & skin issues are the important reasons why it is important to get any breed of dog groomed regularly.
Eyes and Ears
Eyes and ears of a pet are just as important as the coat and skin. If your pet's eyes are congested with overgrown hair or debris, it will cause them to tear up and create more debris. Even causing those ugly tear stains and can lead to painful ear infections. Also important is the removal of ear wax and yeast buildup in dogs that do not have hair in their ear canals.
Toenails
When a dog's nails are too long it can cause their pads to shift over making it uncomfortable to stand. A dog's skeletal structure may be compromised as well as the organs and nervous system. Their dewclaws may grow into the skin as well, causing pain and infection. Left too long, the quick (blood vein in the nail) will grow to a point that the nails cannot be clipped back far enough to be healthy for your pet.
Dental Care
Doggy Dental is extremely important as well maintaining your canine's teeth and gums is crucial for their health. Groomers can offer teeth brushing which, if done on a regular basis, can make a big difference in keeping a pet's breath smelling fresh and preventing tooth decay.
Parasite & Insect Control
Other issues to consider are insects, dirt and germs. Do you have a fear of finding a flea or tick on your pet? Even worse if your pup has an infestation. Having a family dog, that interacts with kids and company, is important that they are insect, parasite and germ-free. Taking your pets into your Groomer can ensure that they are flea and tick free and their overall health is in tip-top shape.
Skin issues
Early detection of very serious conditions can be life-saving under certain circumstances. Groomers that do hand blow-drying see every inch of the dog's skin during the grooming process. Skin imperfections are key to what is going on with the dog internally. For example, early detection of Cancerous Sarcomas can be the difference between life and death in some cases. Allergies, rashes & skin mite detection are also easier to alleviate if caught early. Groomers have many products and applications that can help keep dogs skin healthy if done on a regular basis.   
General Overall Health
The most important reason to get your canine regularly groomed is for their health. Riverside Grooming will thoroughly examine your pet searching, for any possibility that your dog may be uncomfortable in any way or have an issue that would be best checked by a Veterinarian.  Our Groomers strive to send your pet home feeling, looking and smelling great.
And routine Grooming every 4-6 weeks is a win-win for your entire family!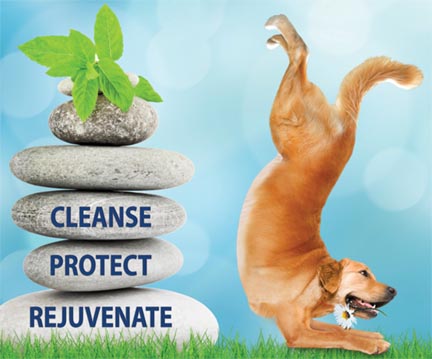 Madra Mór Mud Bath Treatments are like a day at the Spa for your canine! Riverside Grooming now offers the latest in luxurious spa-like treatments for your pet's coat and skin. This wonderful Mud has many uses to give your companion the most healthy, rejuvenated coat and skin possible.
Madra Mor Mud Bath Treatments are eco-friendly and contain a blend of nutrient-rich clay mud, omega oils, calcium, magnesium and more. This perfect blend of natural ingredients makes for a perfect soothing agent for dry, irritated, and flaky skin. Madra Mor Mud absorbs pet odors and leave a clean, soothing fragrance that  you and your pet will love.
This amazing mud can also ease the pain of arthritis that your pet may endure with age. The essential oils in the formula provide a calm, soothing aromatherapy experience and leave your loving pet with a long-lasting scent that you both can enjoy.
Detoxifying | Exfoliating | Nourishing
Two different types of Madra Mór Mud Bath Treatments that Riverside Grooming offer are:
Soothing Mud
The Ultimate Soothing Mud Bath, is the ultimate indulgence for your canine. It is high in antioxidants with strong astringent properties. It is a perfect blend of Mother Nature's finest ingredients that promote comfort, calming and healing to your loving companion. It is the softest mud you will ever feel, leaving your pet's coat feeling amazingly healthy and soft for the ultimate Zen experience.
Shed Safely Mud
Shed Safely Mud is the second type of amazing mud bath we offer at Riverside Grooming. This particular mud bath offers deep cleaning, sweet-smelling, ultra-hydrating omega oils that quench the coat as soon as it is applied. It is full of B vitamins that help relieve and prevent excessive shedding. Shed Safely Mud is ideal for those stubborn thick shedding coats that have more fur than others.
Qualified Pet Dental is a very convenient service offered to our Customers at Riverside Grooming. This service provides your pet with a safe and gentle cleaning of above and below the gum line.  Bad breath in dogs can be very unpleasant. We all know how much dogs love giving us kisses
. This service helps preventing future gum disease. Setting up an appointment with Qualified Pet Dental will ensure that your pet's breath is fresh and clean, and overall dental health is up to par.
The whole procedure only lasts ab
out 30 minutes, and by providing an anesthesia-free dental service, your pet will be ready to play and love you again in no time. This makes for all-around great experience for your pets. Procedures are provided by licensed Veterinarian-supervised professionals with great handling skills. This service is convenient due to the fact that you can utilize it by appointment when you come by our salons to groom your pets. It also includes a full Vet exam. Vaccines and prescription flea and tick treatments are also available during this appointment. We will be setting up the mobile dental service right outside our salon and making an appointment is as easy as calling one of our locations!
CALL NOW TO BOOK YOUR APPOINTMENT
951-233-5166 or 951-343-3222
Originally founded by Animal Behaviorist, Colleen Paige, National Walk Your Dog Week was established in 2010.
Why is it important to walk your dog regularly? Well, there are a number of reasons, but we're pretty sure that from your pet's viewpoint, it would be to get out with you and have some wonderful bonding time.
Pets that are not able to get out, have a sense of confinement. Getting out into the fresh autumn air gives your dog a chance to enjoy mother nature and stay healthy. Experts say that by keeping your pet sedentary also can increase the risk of health issues, such as cancer, obesity and heart problems.
Colleen suggests walking pets is a great way to keep in shape – you and your pet. "If you walk your dog just 30 minutes a day, you will meet national recommendations for heart health", according to Ms. Paige. Great advice.
We hope this tidbit will help you welcome the new season with a healthy fresh attitude – and maybe even a great new hobby.
To find out more about Ms. Paige, visit her website at http://www.colleenpaige.com/
Flea-freedom! At last… Riverside Grooming will help you tackle your pet's flea problem.
When your pet enters our doors, he/she has now stepped into The No Flea Zone.
This friendly little video explains our No Flea policy and suggests products for those who may have been cursed with a flea infestation.