Microbubbles – Deep Skin Cleaning
Microbubbles – Science of Deep Skin Cleaning
Veterinarian-Recommended
Reduces Odor
Reduces Itching
Reduces Skin Irritation
Helps with Skin Conditions, such as "Hot Spots"
Removes Deep Oils, Dirt and Old Soap Deposits
Cleans Inside the Pores and Hair Follicles
Improves Veterinary-Prescribed Therapies
WHAT IS MICROBUBBLE TECHNOLOGY?
Microbubbles represent advancement in skin cleaning capability. They take the concept of clean skin to a level that soaps and detergents cannot emulate. Microbubbles penetrate deep into pores and hair follicles, eliminating sebum, dirt and organic matter that conventional cleaning techniques simply cannot address. However, appropriate shampoos still have their place, particularly animals with excessively oily skin, so proper cleansing is determined by the skin type being treated.
EXACTLY WHAT ARE MICROBUBBLES?
Simply speaking, microbubbles are just very small bubbles. To qualify as "micro", a bubble must, in fact, be less than a 1000 micrometers in size. However, to be effective for deep cleaning skin, the bubbles should be less than 25 micrometers in size and larger than 2. This allows them to penetrate hair follicles and skin pores while not passing through epidermis.
Riverside Grooming's Microbubble System uniformly generates bubbles ranging from 3 to 20 micrometers. To put this in perspective, a typical human red blood cell is approximately 8 micrometers in size; a human hair is approximately 70 micrometers and most bacteria are between 3 and 40 micrometers in size.
IS IT SAFE FOR DOGS WITHOUT SKIN CONDITIONS?
Yes, it's quite relaxing for the dog. As a matter of fact, it sometimes calms pets to the point where they go to sleep. With microbubble cleansing, there's no need for loud high-pressure water nozzles. It's very soothing and with our Dedicated Enzyme Bath Agent, it is even more soothing for your pet. Think of it as a relaxing spa session.
While Microbubble Technology does not replace veterinary or medical protocols, this wonderful deep-skin cleaning can enhance your doctor's treatments.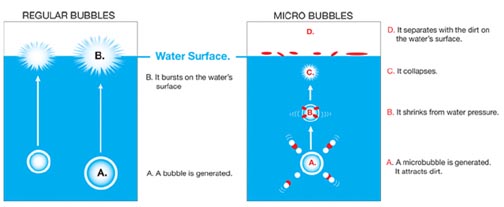 HOW MICROBUBBLES WORK
These illustrations will demonstrate the tiny bubbles penetrating the pores and hair follicles. With the added Cleansing Powder, Sebum, Oils and Dirt cling to the bubbles and lift to the surface of the water.