pet grooming
Welcome
Riverside Grooming is here to serve the Riverside community for all their pets' care in quality hygiene care and grooming needs.
It's been over 5 years already since we opened our first salon in Riverside. With our tremendous expansion, we opened our second salon at 10555 Indiana Ave., between Tyler and La Sierra, which also offers Doggie Day Care!
2013, 2014 & 2015 "Best of Riverside" Award for Pet Groomers
Reader's Choice award: "Best Place to Get Your Pet Groomed" – Press Enterprise
"One of the highest rated Animal Grooming companies in the Los Angeles area." – Angie's List
"Stellar reputation" – Yelp
There is a wealth of information here on our website. If you're looking for something specifically, just place it in the search bar to the left, or just let us know.
Be sure to "Like" us on Facebook and visit our Blog. You can also get on our mailing list HERE. We'll keep you up to date with what's going on at your Spas!
Mission Statement
Riverside Grooming has the mission to be the most convenient Pet Salon in Southern California. Each and every customer and pet that comes through our doors is treated with the respect they deserve. Our intention is to groom each pet to their owner's expectations, and to further exceed in customer service.
First Policy: "Quality Counts"
We thank you for choosing us. We hope to earn the place in your heart for your family's pet care needs.
Award winning Pet Groomers in Riverside will treat your loving pet like royalty!
This is Rascal, a Cavalier King Charles Spaniel, who visits us regularly at Riverside Pet Grooming. He's an active, happy and very good boy. Dogs that are groomed once a month know the routine and are familiar with the sounds, smells and sensations of being touched on all areas of their bodies during the grooming process. This makes for a happier dog during the grooming experience. We're glad your humans care enough to bring you to see us often Rascal!
Enjoy these pictures of our fantastic staff with their pets. The video then goes into wonderful moments in the salons with many of our great customers' pets…
Happy Holidays to all!
Getting the job done with our Mobile Grooming Services!
Looking for a great mobile grooming service in Riverside? Riverside Grooming now offers our mobile services.
Our clients have given us rave reviews and are proud to be repeat clients. Our top of the line mobile van is fully equipped with the warm water, shampoo, towels and everything else a professional mobile salon would require.
To avoid the noise and distractions of a loud generator, we would need a place to plug up for electricity at your home, but other than than we're ready to help you with your loving pets. We have several Groomers available for these services.
Call right away to book your special at-home service. We have been booking up rather quickly. We're looking forward to helping you with your service!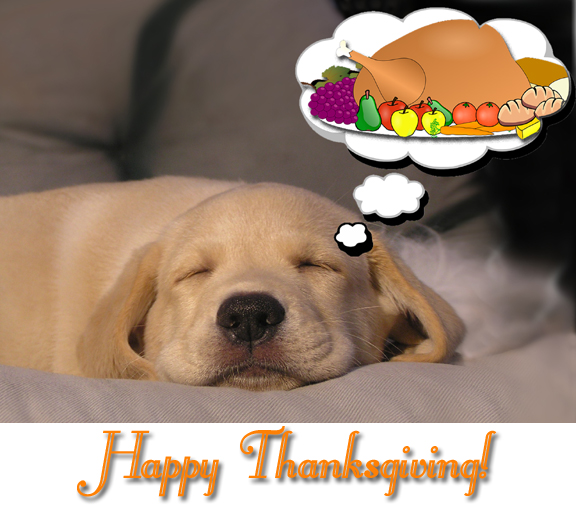 The year went by so fast. It's hard to believe it's Thanksgiving again. We are very thankful for your support with Riverside Grooming and we're looking forward to grooming your pets for the holiday season. Please note that the holidays are usually the busiest time of the year for our salons. We highly recommend that if you want a haircut on your pet that you come right away, because as we approach Thanksgiving day we may only be able to accept simple baths and tidy-ups. You may even want to consider getting the hair cut now and coming back right before the family get-together for a fresh last minute bath! Thanksgiving Store Hours: Both shops will be open Tuesday & Wednesday before Thanksgiving (24th & 25h). They will both be closed on Thursday & Friday (26th & 27th).
GIFT CARDS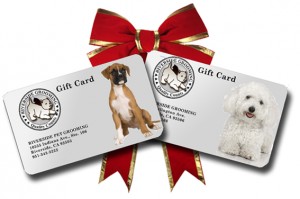 We now offer our new gift cards for the holidays. These cards are similar to a Starbucks card in that they are reloadable. If you need to start early for your holiday gift shopping, why not get them a nice grooming for their pet?
PET PICS WITH SANTA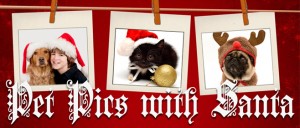 Ready to get your Santa Pet Pictures done for 2015?
Mary S. Roberts Pet Adoption is offering Pet Pics with Santa for a simple donation of $20.
And while you're there you can enter a raffle. All proceeds benefit pets residing at the Pet Adoption Center the cats, dogs, puppies and kittens waiting to be invited into forever home this holiday season.
Perfect timing! Great price!
When?
December 4th from 2pm – 5pm
December 5th 10am-12pm & 2pm-5pm
Where?
Mary S. Roberts Pet Adoption Center
6165 Industrial Avenue Riverside, CA 92504
(951) 688-4340
MOBILE GROOMING VAN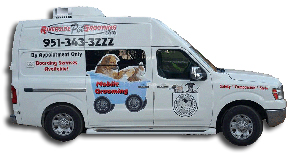 Quick reminder that our Mobile Grooming unit is up and running. We've had many happy clients re-booking this service. We try to make our services as convenient as possible! Call now to book your next Mobile Grooming appointment! 951-343-3222 or 951-233-5166