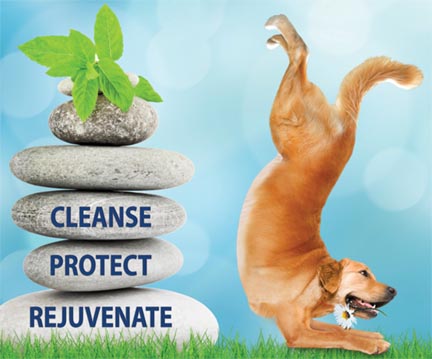 Madra Mór Mud Bath Treatments are like a day at the Spa for your canine! Riverside Grooming now offers the latest in luxurious spa-like treatments for your pet's coat and skin. This wonderful Mud has many uses to give your companion the most healthy, rejuvenated coat and skin possible.
Madra Mor Mud Bath Treatments are eco-friendly and contain a blend of nutrient-rich clay mud, omega oils, calcium, magnesium and more. This perfect blend of natural ingredients makes for a perfect soothing agent for dry, irritated, and flaky skin. Madra Mor Mud absorbs pet odors and leave a clean, soothing fragrance that  you and your pet will love.
This amazing mud can also ease the pain of arthritis that your pet may endure with age. The essential oils in the formula provide a calm, soothing aromatherapy experience and leave your loving pet with a long-lasting scent that you both can enjoy.
Detoxifying | Exfoliating | Nourishing
Two different types of Madra Mór Mud Bath Treatments that Riverside Grooming offer are:
Soothing Mud
The Ultimate Soothing Mud Bath, is the ultimate indulgence for your canine. It is high in antioxidants with strong astringent properties. It is a perfect blend of Mother Nature's finest ingredients that promote comfort, calming and healing to your loving companion. It is the softest mud you will ever feel, leaving your pet's coat feeling amazingly healthy and soft for the ultimate Zen experience.
Shed Safely Mud
Shed Safely Mud is the second type of amazing mud bath we offer at Riverside Grooming. This particular mud bath offers deep cleaning, sweet-smelling, ultra-hydrating omega oils that quench the coat as soon as it is applied. It is full of B vitamins that help relieve and prevent excessive shedding. Shed Safely Mud is ideal for those stubborn thick shedding coats that have more fur than others.
Qualified Pet Dental is a very convenient service offered to our Customers at Riverside Grooming. This service provides your pet with a safe and gentle cleaning of above and below the gum line.  Bad breath in dogs can be very unpleasant. We all know how much dogs love giving us kisses
. This service helps preventing future gum disease. Setting up an appointment with Qualified Pet Dental will ensure that your pet's breath is fresh and clean, and overall dental health is up to par.
The whole procedure only lasts ab
out 30 minutes, and by providing an anesthesia-free dental service, your pet will be ready to play and love you again in no time. This makes for all-around great experience for your pets. Procedures are provided by licensed Veterinarian-supervised professionals with great handling skills. This service is convenient due to the fact that you can utilize it by appointment when you come by our salons to groom your pets. It also includes a full Vet exam. Vaccines and prescription flea and tick treatments are also available during this appointment. We will be setting up the mobile dental service right outside our salon and making an appointment is as easy as calling one of our locations!
CALL NOW TO BOOK YOUR APPOINTMENT
951-233-5166 or 951-343-3222
Greetings from the Riverside Grooming Team! We would like to wish you all a very Merry Christmas! We hope that you enjoy your time with your family, friends and festivities and that Santa brings everyone lots of lovely gifts!
Enjoy these pictures of our fantastic staff with their pets. The video then goes into wonderful moments in the salons with many of our great customers' pets…
Happy Holidays to all!
 
A microchip implant is a tiny circuit inside a capsule that is positioned just under your pet's skin. It has a unique code in it that can be detected by a radio-frequency scanner. Though it's invisible, it is highly effective in identifying a pet in question.
If your pet gets lost and is taken to an animal shelter or veterinarian, they will scan the microchip to read its unique dog or cat ID code.
May is Chip-Your-Pet Month
Did you know that micro-chipping your dog is one of the best assurances that you will have in recover him if he gets lost? The month of May has been designated as "Chip Your Pet Month" and is a good reminder and awareness measure. There are many clinics that offer affordable microchip services.
May your pet always be by your side!.
Riverside Grooming has now been certified by the American Kennel Club (AKC) as an AKC Safety-Certified Salon. This prestigious award is given only to salons who have worked hard on ensuring the high safety standards established by the AKC. Both of our shops have been awarded and we are proud to prominently display our certificate in our Reception areas.
AKC Groomer/Salon Safety Oath
This salon agrees to the following AKC Safety Requirements:
Pets must be handled and treated humanely; the pet's safety is the top priority.
Pets cannot be left unattended on grooming tables or in tubs.
Equipment and surfaces that come in contact with the pet must be cleaned prior to use.
Pets not being groomed must be secured in a crate with a door and a latch, or in a secure designated play area (with owner's consent).
Crates and cages must allow the pet to stand and do a full circle.
Cage dryers, if used with owner's consent, must have working temperature gauges and timers.
Cage drying will only be done with equipment manufactured specifically for cage drying.
The following records must be kept on each pet: identification, medical and behavior issues, allergies, intake condition and emergency contact.
Floors must be free of hair and water to ensure that a safe electrical environment is maintained at all times.
The salon must have two barriers between the grooming area and the salon exterior.
A first aid kit and fire extinguisher are to be in plain view at all times.
One AKC Safety-Certified Groomer must be present during grooming hours.
All local laws, ordinances, and building codes must be abided by at all times.
Grooming Certificates must be displayed at all times (NDGAA, IPG, ISCC, AKC).
An AKC-approved disaster plan must be in place.
This salon agrees to be inspected by the AKC at any time.